Welcome to Lower Bruckland Farm!
Please note that the reserve is now closed for the winter (this includes Ratty's Tearooms).
Lower Bruckland Farm is an award-winning area of natural beauty situated just off the A3052 near Boshill Cross, Musbury, near Axminster, Seaton and Lyme Regis, on the border of East Devon and Dorset. It commands striking views over the beautiful Axe Valley. Its accessibility, and the shelter afforded by the brimming hedgerows around also ensures that time spent on the grounds will be in peaceful and pleasant surroundings, making the site ideal for artists and photographers, walkers, and people with an interest in nature and wildlife. If you're interested in staying, we also have luxurys holiday cottages just a stone's throw from the nature reserve.
There are also a number of landscaped lakes, which at the same time are an important home to a variety of species, all varied in size and aspect and quite distinct owing to the flowing, interesting contours of the land. Visitors who are around at sundown will appreciate the spectacular sunsets that can be seen from the lakeside cafe.
In the meantime, please take a look at our Devon wildlife blog, our photo gallery and slideshow.
We are proud to have become an AONB Ambassador too (this is a scheme between East Devon District Council, Defra and Devon County Council).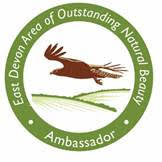 Latest news: