NB Reproduced with permission and thanks to David Walters and team.
Axe Estuary Birds                                                                                              No 172   January 29th      2012 
The Birds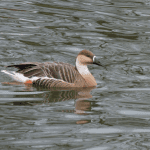 A little off patch, but worth a mention.  Helen Buse spotted a pair of Swan Geese at Exeter Quay.  Not native to UK, and probably escapees.  Breeds in northern-most China, but also domesticated and found in collections in Europe.
Still off-patch, Karen Woolley went a-twitching all the way to Hampshire for a Spanish Sparrow and a Dark-eyed Junco.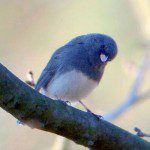 Photo Karen Woolley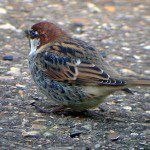 And still off patch – just – Roger Boswell snapped a Spotted Sandpiper among the Purple at Lyme Regis, and Donald Campbell saw two Dippers on the Coly on 27th.
Back on patch, Donald reports 800 Lapwing on the estuary, with another 400 north of the A3052 on 25th.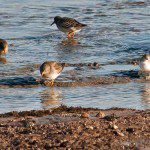 Photos Spanish Sparrow Karen Woolley
and Roger Boswell Spotted Sandpiper
Back on  patch, Sue Smith got a lovely picture of a Bar-tailed Godwit on Seaton Marshes, and  an even nicer one of a "cute fluffy Little Grebe just floating by" from the Tower Hide.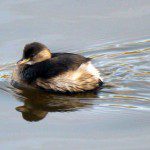 Ringing
At a ringing session at Colyton Water Treatment Plant an unusual catch was an Eastern or Grey Chiffchaff [for more see Steve's post: http://stevesbirdingblog.blogspot.com/2012/01/grey-chiff.html]. Photo Mike Tyler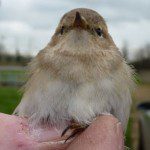 The day's (29th) catch was a little smaller than previous ones, but I had to fire early to beat the Corvids and wait for the ducks to settle after a Peregrine flew over looking for breakfast. Anyway the total was 32 comprising of 29 (19) Shelduck, two Mallard and one Wigeon. An extra Mallard was extracted from an Abberton Trap. Mike Tyler.
Simon Wakely writes  "A garden first today, a Merlin has been here trying its luck with our birds,"
News from Holyford Woods
Over the last two weeks the weather has been changeable, alternating between damp and misty but mild, now cold and crisp but sunny. More signs of Spring are everywhere. The catkins, now fully grown are heavy with pollen, bright yellow in the sunshine. Unless we have a really cold spell the hazel leaves will soon fill out.  At last a few pussy willows are opening, in sheltered spots primrose flower buds are emerging, and there are 7 blobs of frogspawn on the pond, 10 days earlier than last year.  Badger activity has started around the setts. One has been cleaned out, a latrine dug and used, and a lot of rooting for food has taken place especially all over the area where the Roe Buck was active in the rut. The dog Fox is still travelling through the Woods, his pungent scent hanging in the warm air. Bird activity, calls and song have increased, ranging from both the Mistle and Song Thrushes, Blackbirds down to the tiny Wrens. Already the flock of Long-tailed Tits has broken up and I have twice seen a pair flitting through the trees.
This afternoon the place rang with the calls of a flock of 50+ Crows, Rooks and Jackdaws, firstly mobbing 2 Buzzards, which they drove to the North of the Woods, then settling for a few minuets before taking to the air again to have a go at 2 Ravens which were twisting, diving, and swooping performing their wonderful aerial ballet, calling all the time with that dry rasping sound.  They were soon totally outnumbered and gave up. The flock returned to the treetops, well and truly stirred up, especially the Jackdaws with that loud raucous call out of proportion to their size.  Holyford is not always a peaceful place. Jean Kreiseler
View from Colyford Hide January summary:
The Mute Swan flock visible from the hide seems to have settled to around 30 birds.  The Canada Geese which were missing for much of the month reappeared on 17th when nine were present.  Duck numbers are probably lower than might normally be expected with about 250 Wigeon and up to 30 Teal noted although the latter species can be quite elusive!  A male Goosander was reported from the estuary on 15th.
Two Peregrines were seen on the 1st of the month and single birds several times thereafter.  Sparrowhawks have also been sighted and there were five Buzzards in the air together on 27th.
The 'star turn' throughout the month has been the large numbers of Lapwing on the marsh and often on the large crape where 380 were counted on the 6th and over 1000 were estimated to be present on the marsh on 26th.  Up to about 50 Curlew have been present and 46 Dunlin were counted on the scrape on the 2nd.  Unusually, just one Black-tailed Godwit was noted on the scrape.
Passerine interest on the reserve was provided by flocks of up to 60 Linnets, small numbers of Fieldfares and Redwing and up to 21 Rock Pipits on the overhead wires. Bob Olliver
The Trivia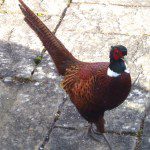 We have been honoured recently by a Pheasant visiting our patio and looking at us through the French window. Photo David Walters
Heather Parris recently attended an interview in Scotland, and one of the interviewers recalled hearing of a Fish Trap on the River Axe.  This rang a bell, and I am trying to locate an article I saw some years ago in the journal of the Ave Vale and District Conservation Society. In the meantime, I did find a bit of an old newsreel on the internet, which is very interesting, dating from 1962.  You will find it at www.britishpathe.com/video/fish-trap
Alan Romp sent me this photo of an insect new to me, identified by several of my knowing correspondents   as a Western Conifer Seed Bug an introduction/immigrant from the USA. Very large numbers were reported on the south coast in the last few years, a not very welcome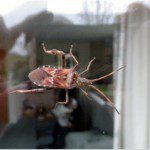 immigrant from the Americas. http://www.britishbugs.org.uk/heteroptera/Coreidae/leptoglossus_occidentalis.html
Thursday 2 February 10 am – 12 noon Meet the Birds Axe Estuary Wetlands: Black Hole Marsh.  No booking required.
Tuesday 14 February 10 am – 1pm Making a love nest.  Axe Estuary Wetlands: Field Studies Base.  To book: 07814 477 422
St Valentine's day is the last date in the calendar for getting bird nest boxes up in time to catch early breeders. Come along to the Field Studies Base and make a bird box for your garden with the ranger team. Each kit is £5, which includes all the fixings you will need to walk away with your very own garden love nest. Booking essential.
Thursday 16 February 10 am – 12 noon   Meet the Birds.  Axe Estuary Wetlands:  Black Hole Marsh.  No booking required.
This twice-monthly email newsletter is freely available to anyone who would like it, as is a periodic one about the activities of the East Devon Local Group of the Devon Wildlife Trust.  Just send me an email with Axe Estuary Birds and/or East Devon DWT in the subject line.  Also, for those without a computer, I will send a copy by post if you would like to send me some stamps.
Thanks to those who keep me informed.  Please continue to tell me of any unusual, interesting or amusing sightings, and what is about locally, and send any photos you would like to share.
Bob, Mike Jean, and David.  (and many others!) davidwalters@eclipse.co.uk.
7 Springfields, Colyford, EX24 6RE. tel. 01297 552616  Mobile 0779 1541 744.
For more on the grey chiffchaff, see Steve's blog: http://stevesbirdingblog.blogspot.com/2012/01/grey-chiff.html