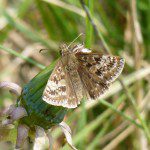 This photo of a Dingy Skipper butterfly was sent in by Steve on Wednesday (many thanks!). He wrote:
Saw this Dingy Skipper at Lower Bruckland Ponds this afternoon.  It's the first one I've seen here and the first one I've seen locally away from the cliffs at Branscombe and Axmouth.
The Dingy Skipper (Erynnis tages) is apparently so-called because when it first emerges the darker colours that make up its markings are striking (at least for browns and grays), however over time this fades as scales fall off, leaving its appearance somewhat less exciting than other butterflies (i.e. dingy).
For details on its annual cycles check out UK Butterflies, which also describes its natural habitat as "warm open areas" such as cliffs/stone areas (explaining Steve's experiences at Branscombe/Axmouth) but also woodland clearings, which might explain why he spotted a Dingy Skipper here too.