The following content is reproduced with permission and thanks to the team for bringing us the birding news (and all the other news) as always!
Axe Estuary Birds No 164 September 14th 2011
The Birds
Tim White has been to Black Hole Marsh and got these great photos of a Ruff, a Peregrine Falcon and a Black Headed Gull seeing off a Greenshank
And Steve Waite took these two Ruffs, showing the huge difference in size between the male and female, and also captured this Juvenile Curlew Sandpiper while Sue Smith, out as always with her camera, got this lovely Kingfisher.
Colyford Common Snippets
Nine Mute Swans appeared briefly over the reserve on 22nd, 48 Canada Geese were on the scrape on 24th and 9 Shelduck on the 22nd; 11 Teal were on the scrape on 22nd and 6 at BHM on 28th and c60 were seen in the air over the marsh on 29th. Two Pintail were noted at BHM on 26th. A single Little Grebe was seen on the river on 26th. Little Egrets (16 on the scrape on 28th) and GreyHeron (11 on the marsh on 31st) were a regular sight from the hide.
Raptor sightings included single Sparrowhawks over the reserve on 22nd and over the scrape on 28th (juvenile male), a Buzzard (31st) and the now regular Kestrel on the reserve (22nd, 29th) , two Peregrines over the marsh and BHM on 26th and one chasing Curlews over the scrape (unsuccessfully) on the 28th and a Hobby was reported from BHM on 26th. As yet there have been no sightings of Osprey.
Waders continue to provide most of the interest with 18 species noted: the Oystercatcher family was on the estuary (seen from the Tower Hide) on 22nd, five Lapwing were on the reserve on 31st, up to 11 Ringed Plovers were present on the scrape and at BHM, a Little Ringed Plover was noted on the scrape (24th), two Knot were on the scrape (22nd) and three there on 24th which may have moved to BHM by the 26th, a Little Stint was at BHM on 26th with two there on 28th, up to c20 Dunlin were present, mostly at BHM, a Ruff was at BHM on 24th with two there from 26th-31st, a Snipe was seen on the estuary on 29th, up to 10 Black-tailed Godwits were present, mostly at BHM and a single Bar-tailed Godwit which seemed to move between the scrape and BHM between 24th and 28th, a single Whimbrel was in the area from 22nd until 28th, up to 80 Curlew were present throughout, up to four Common Sandpipers were at BHM with just one seen on the scrape and one on the reserve ditches, in contrast up to four Green Sandpipers were on the scrape, two on the reserve and two at BHM, Wood Sandpipers were present at BHM throughout with a maximum of three present from 22nd-26th. Greenshanks were at BHM on several dates with a maximum of 6 on 29th and just two Redshank noted at BHM on 24th (this species is of course more commonly seen lower down the estuary, especially from the hide at Seaton Marshes).
Up to 44 Canada Geese were seen on the marsh (1st) and six Shelduck (3rd), a Mute Swan with yellow colour ring (ADI) was on the scrape on the 1st, up to 60 Teal were present and four Wigeon were seen on the 4th. The maximum Little Egret count was 15 on the marsh on 3rd with five Grey Heron also present.
A Kestrel was on the reserve on the 1st and a Sparrowhawk was seen over the marsh on the 3rd. Eight Stock Doves were seen on the 3rd. A Kingfisher was seen regularly and Meadow Pipits are beginning to be seen on the reserve with a count of eight on 3rd.
Migrant passerines seen included four Wheatears frequenting the boardwalk at high tide on 1st, and single Reed Warbler, Chiffchaff and Whitethroat on the reserve on 3rd.
Corvid flocks have started to build up; 32 mixed Rooks and Carrion Crows were on the marsh on the 1st.
The Trivia (not so trivial!)
James Chub writes; "You may remember last year I wrote about the discovery of a Thirteen-spot Ladybird at Seaton Marshes, discovered by local naturalist Catherine Willerton. Well she has been something of a tub-thumper for these beetles ever since and it was her insistence which got ladybird expert Richard Comont to come and take a look.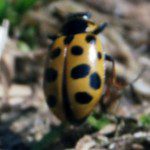 Photo Catherine Willerton
The species in question has been officially extinct in the UK for the last 60 years and this will be the first confirmed breeding of this beetle ever in mainland Britain. I remember as a boy being told that the number of spots on a ladybird's wing cases told you how old it was, not so, there are many different species and the thirteen-spot, is officially now my favourite!"
http://rangerjames.wordpress.com/2011/09/
Peter Vernon writes "I have attached a couple of images of the Latticed Heath Moth I caught here on Friday evening. Apparently it is a rare moth to find in Devon. I caught another last night a different specimen which was lighter in colour, both are presumed to be immigrants from the Continent."
Latticed Heath Moth
News from Holyford Woods
As I walked across the field to the entrance one morning, there was a flock of about 25 Goldfinch flitting between the tall thistles poking through the bracken, and 2 GreenWoodpeckers feeding on the hillside. There are more and more signs of Autumn now. The blackberries are abundant, and the fruit of the elderberry has turned that deep glossy purple. The paths have acorns strewn around, and after one night of high winds many twigs from the oak and ash trees. Sadly I have learned from a walker that in early June his dog found a tiny Roe fawn dead beside the track across The Hangings. It was apparently terribly thin, so one must assume there was either not enough milk for 2 or there was a health problem. I have noticed the Roe buck is still fraying trees, so he must be in the false rut that can occur from now to October. The best news of all is the sighting of 2 Nuthatch young being fed by 2 adults! I heard their loud calls before I could locate them, then was able to watch them for ten minutes while seated on a favourite fallen tree away from the bottom path. Surrounded by oak, ash and birch trees there are always birds to watch there. Peter Vernon tells me he had recently seen large flocks of mostly Jackdaws flying in to roost in Holyford. Twice since I have been in White Gate Lane hoping to see them, but they must be roosting elsewhere now as there has been only the usual flock of mixed corvids.Jean Kreiseler.
Ringing
The weekend's tally, despite the weather, was 34 birds (6 retraps) as follows: Greenfinch 8(1); Blue Tit 3(1); Goldfinch 2(1); Kingfisher 1; Moorhen 1; Great Tit 1; Long-tailed Tit 1; Dunnock 4(2); Blackcap 2; Swallow 4; Wren 1; Mallard 3; Blackbird (1); Treecreeper 1; Song Thrush 1.
This twice-monthly email newsletter is freely available to anyone who would like it, as is a periodic one about the activities of the East Devon Local Group of the Devon Wildlife Trust. Just send me an email with Axe Estuary Birds and/or East Devon DWT in the subject line. Also, for those without a computer, I will send a copy by post if you would like to send me some stamps.
Thanks to those who keep me informed. Please continue to tell me of any unusual, interesting or amusing sightings, and what is about locally, and send any photos you would like to share.
Mike, Jean, Bob and David. (and many others!) davidwalters@eclipse.co.uk.
tel. 01297 552616 Mobile 0779 1541 744.