This is the latest of our birding updates from Steve Waite. As always, thanks to Steve for sharing!
---
May 2015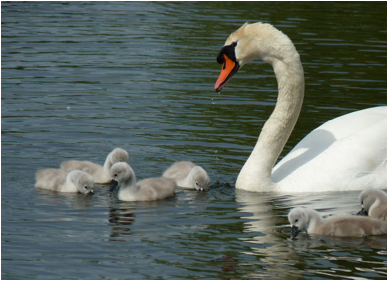 Despite the lower than average temperatures for this month, breeding success has been good and several species have fledged young. Families of many of the commoner birds species have been seen in the trees and bushes around the Ponds, such as Great and Long-tailed Tits, Wren, Robin and Chaffinch.   On the Ponds themselves, Moorhen and Coot chicks are now away from the nests, as are the Mute Swans with seven cygnets all looking well at the end of the month.
There are though still some species in the early stages of nesting, in particular the summer migrants that have not long arrived. Pleasingly there are two singing male Reed Warblers at the Ponds this summer, and fingers crossed they can attract mates and nest succesfully. A Blackcap has also recently set up territory along the southern boundary hedge. The House Martins and Swallows that feed over the Ponds on a daily basis will have nests not far away, and the eggs in these nests should be hatching about now.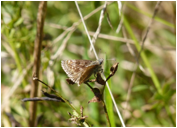 Dragonflies and Butterflies are also appearing now, with a some of the Ponds specialities having already been seen, namely Scarce Chasers and Dingy Skippers (see photo). For better numbers though we need a temperature increase, and it looks as though June will be giving us this.
(Steve Waite, May 2015)