June 2015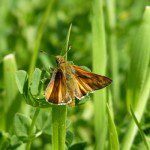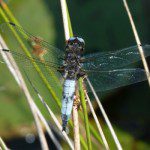 The Ponds have been very busy this month, with wildlife all over the place. It is such a joyous place to be at any time of the day this time of year as there is just so much to see. If it is flowers you want, there are many on show at the moment including Southern Marsh Orchid (see photo), swarms of butterflies include numerous Large Skippers (see photo), along with thousands of emerging dragonflies and damselflies, with now being a good time to see the rare Scarce Chaser (see photo). You may even be lucky enough to come across one of the larger mammals, with Roe Deer and this young Fox (see photo) recorded this month.
Birds have been busy as well, with young birds aplenty. On the ponds at least two pairs of Little Grebe have got small young, along with numerous young Coot (see photo) and Moorhen. The Swan family were down to six cygnets by the middle of the month, if they can keep all of them it will be a very successful year.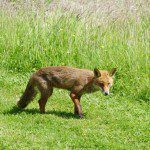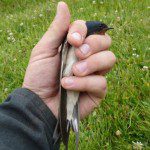 A bird ringing session on 26th proved breeding of Chiffchaff, Blackcap, Reed Bunting, Robin and Blackbird. All these birds caught were juveniles not long out of the nest, which is tremendous news. Out of all the birds caught during the whole session only two were adults, a Reed Warbler and a Swallow (see photos). The Swallow was especially interesting as it was already bearing a ring, and not one fitted by anyone locally. It will be exciting to find out where and when it was first ringed, but unfortunately this information may take a while to glean from the BTO.
(Steve Waite, June 2015)