This post republished with permission and thanks to the team.
The Birds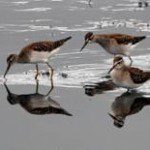 The highlight of the week has been the Wood Sandpipers at BHM.  First there was one, and that was soon joined by another and today (Sunday 14th) I am told there are six!
This lovely photo taken by Sue Smith.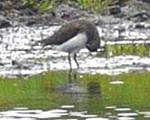 "Whilst on my first walk of August along the River Axe upstream from Axminster yesterday I came across no fewer than three Green Sandpipers and managed to get the attached photo. These were the first of the summer so I was very surprised. They were on a stretch of the river normally favoured by Dippers; there was a juvenile Dipper in late June and an adult there on 26th  July. perhaps they bred?"  Rodney Gayer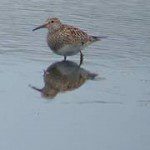 So it's been a bit of a Sandpiper Spectacular, as only last week there was also a Pectoral Sandpiper at Black Hole Marsh = and we should not forget the Common Sandpipers that have also been gracing the scene.
And another seasonal first, from Isobelle Anderson, who reports an Osprey surveying the landscape from the A3052.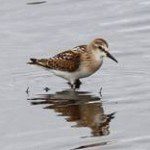 Tim White took this picture of a Little Stint.
David Jannaway tells of another well travelled Lesser Black-backed Gull, ringed in Cardiff in July 2000, in France later that year and in Portugal five years after that.  Then in Spain in 2008 and now on the Axe Estuary some 11years after being first ringed.
The Trivia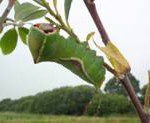 Puss Moth taken by David Jannaway near the FSB at BHM.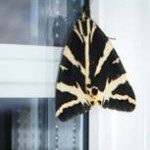 Jersey Tiger at Morecombelake on August 8th photo by Maggie Dilley.
Colyford Common Snippets
Four Mute Swans were on the scrape on the 6th and Canada Goose numbers had built up to 49 on the river on 6th with counts of over 30 regularly on the Marsh behind the scrape.  Three Teal were seen there on the 3rd.
Herons and egrets continue to frequent the large scrape with as many as 21 Little Egrets there and on the surrounding marsh on the 3rd  and a maximum count of seven Grey Herons on 2nd.
Wader records on the scrapes or close by include the now regular Oystercatcher, 3 Lapwing (3rd, 6th), 4 Dunlin, 1 Common Sandpiper and 1 Green Sandpiper (1st); the maximum Curlew count was 59 on the Marsh on the 1st.
Black-headed Gull numbers reached 410 on the scrape on the 1st with other counts of over 100 on the marsh on 3rd and 4th.  Four Great Black-backed Gulls were noted there on 4th.
Six Stock Doves were seen on the marsh on the 3rd, a Kingfisher on the reserve on 6th, five Meadow Pipits  4th, a Grey Wagtail on the 3rd and the first returning autumn Wheatear on 2nd, 3rd and 5th.  The juvenile Starling flock remained at about 60.  Up to three Kestrels were reported in the area on 1st and 2nd.
Black Hole Marsh provided much interest particularly on the 6th; a pair of Tufted Ducks seem to have taken up residence and other wildfowl included 11 juvenile Shelduck and 45 Mallard, waders included 7 Black-tailed Godwits, 3 Dunlin, 3 Redshank, 6 Common Sandpipers and a Pectoral Sandpiper which was seen again on 7th.  Alongside the walk out to the Tower Hide a female Blackcap, 5 Reed Warblers, 1 Sedge Warbler and a Whitethroat were seen.  A male Linnet was seen feeding a young bird on one of the overhead wires.
News from Holyford Woods
Not much has changed during my two weeks absence.  The weight of rain on the bracken has meant it is already bending over in places, and combined with strong winds, this has ripped clusters of ripening nuts off some of the Hazel trees. Along the Hangings there are enough ripe blackberries for a pie, and my pruners are needed to cut back the brambles, which seem to have grown three foot at least.  Paco was happy to scent deer along the path below the conifers, then spotted  the Roe buck among the trees, with a doe nearby. His excited squeaking alerted them and judging by his reaction when they leapt over the path down to the stream, his little heart must have been racing.  Beside the path to my seat, he found a wasps nest which a Badger has unearthed from below a fallen trunk, but not damaged. He was stung on his ear as a consequence,  which he took in his stride after I removed the sting. How beautifully these tiny insects construct their home. During my two visits I heard no Buzzards, and the Corvids were silent, having chosen to join the Gulls spread out among the cattle in the fields on Seaton Down. In fact there is very little bird activity now. The rampant Parrot Feather on Top Pool has finally covered the clear patches of water which the Mallard Ducks and Moorhens used to keep open, neither of which  have I seen for a while.
Ringing
This weekend has seen blanket coverage at Black Hole Marsh, with volunteers covering from dawn to dusk on both Saturday and Sunday.  At 11.30 Sunday morning there had been "only" 169 birds ringed and they were complaining that it was very slow.  There had been a few late Swifts seen and two Swallows, a couple of Greenshank, no less than six Wood-Sandpipers and lots of Starling.  As it is still on-going, this is not a full report.
Diary Dates
Apologies for no details this time – after cataract surgery I still cannot see clearly.  Suffice to say there are at least 31 events during August, and if you need to know more please contact the EDDC Countryside Service on 01395 517557 and ask them for a copy of the event guide.
This twice-monthly email newsletter is freely available to anyone who would like it, as is a periodic one about the activities of the East Devon Local Group of the Devon Wildlife Trust.  Just send me an email with Axe Estuary Birds and/or East Devon DWT in the subject line.  Also, for those without a computer, I will send a copy by post if you would like to send me some stamps.
Thanks to those who keep me informed.  Please continue to tell me of any unusual, interesting or amusing sightings, and what is about locally, and send any photos you would like to share.
Jean, Bob and David.  (and many others!) davidwalters@eclipse.co.uk.   tel. 01297 552616  Mobile 0779 1541 744.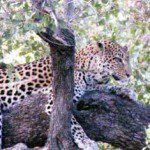 Botswana August 2011 – Holyford Woods August 2111?  Jean Kreiseler