Another update from the prolific Mr. Waite below. Steve tells us he recently had some computer issues so we hope they are sorted!
---
August 2015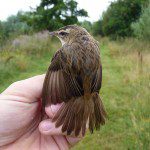 There were some excellent bird ringing sessions during the first half of the month, with 53 birds caught in specially erected fine mist nets set that were set on three different mornings. The vast majority of these were migrating Warblers, with six different species of Warblers ringed. Most of these were Chiffchaffs and Willow Warblers, but also included a few Blackcap, two Whitethroat a Sedge Warbler (pictured right) and best of all a Garden Warbler (pictured twice below). Garden Warblers don't breed around here, so this bird had clearly come some way, it could have been born anywhere in the UK in fact!
It wasn't just Warblers though, with one of the often seen Great Spotted Woodpeckers ringed and two different Kingfishers, both young ones. One of the Kingfishers (a male, pictured below) ringed in early August was re caught 14 days later, so it clearly visits the Ponds often – it may never actually leave! The other bird (a female) hasn't been caught again since release so was probably just passing through.
Other exciting sightings included a Marsh Tit and eight Teal on 11th and a Tree Pipit on 21st, all dispersing migrants.
The Mute Swans still seen to be doing well, as do the young Coots, Moorhens and Little Grebes, in fact two pairs of Little Grebes have had a second brood with some more small young appearing. Although the weather hasn't always been good for insect watching, Ruddy Darters are now out, and all the expected butterflies have been seen in good numbers, including a second brood of Dingy Skippers.