Thanks, as always, to the seemingly tireless team behind Axe Estuary Birds. Reproduced with permission and gratitude!
Seaton Marshes Hide and Black Hole Marsh
The hide has now been repaired, and was opened again on November 7th. Good speedy work by EDDC!
There have been several comments recently about the water levels at Black Hole Marsh, and Fraser writes "Now we're into the winter, the levels on BHM will be kept higher for a while. This is for the sake of the mud and waders as you can't have mud full of invertebrates all year round as it will simply dry out. I try to keep the wetting periods to a minimum and to time them to coincide with relatively wader-less times of the year but it's not possible to keep all the waders happy all the time. From Christmas/New Year onwards I'll lower the levels again slightly but I intend to keep the tidegate engaged so that it will flood for a few days every fortnight. Then in the spring we can have lower levels again for longer periods to provide mud for migrant waders."
The Birds
Two lovely photos from Sue Smith. How often do we see the glorious plumage of the Lapwing? And the Curlew is great too.
Mike Lock writes: "Over the past week or two we have had a marked return of blackbirds here. They have been absent from the garden for the past 3-4 months. I had assumed this was due to the very dry summer making it difficult for them to find worms etc. Now, quite suddenly, they are back, with at least three disputing the section of hedge whence they can come and take the pyracantha berries from the front of the house. Are these just local birds coming back from damper places after the recent heavy rain, or are they immigrants from eastern England or even from Europe? Some have suggested the latter on account of their dark beaks." Can anyone say why some have dark beaks? Are they immigrants?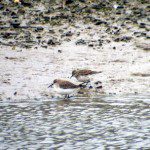 Steve Waite got excited on Monday 7th and says "I ran from my car, and scoped it from the side of the Estuary just north of Coronation Corner. It was distant, but thankfully with a Dunlin. The different feeding action, shorter bill, and the whole shape of the bird prompted me to start making phone calls. This distance meant I could see very few plumage features – just that its mantle wasn't plain and it looked overall darker than the Dunlin, with some facial markings. Although I've never seen White-rumped Sandpiper before, this is what it 'felt like' to me…" And it was! Photo Ian McLean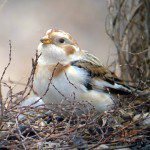 And Karen Woolley, on the beach near the Yacht Club came across a pair of Snow Buntings, gorgeous little birds, and took some lovely pictures, of which this is just one.
After the report by Ann Smith of a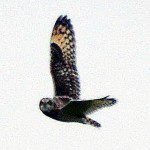 Short-eared Owl near Budleigh Salterton in the last newsletter, one has been seen at Black Hole Marsh, and photographed by Sue Smith .
There are still a few Swallows about, and bees have been seen collecting pollen. Will it be winter soon? By way of contrast, there have been several reports of winter visitors such as Redwing and Fieldfares
The Trivia
An item of jewelry has been found in the Seaton Marshes Hide. If you have lost something please contact David Walters in the first instance on 01297 552616 with the details.
Another Vandal ! Steve Waite had his car attacked by a Pied Wagtail who obviously took exception to his own image !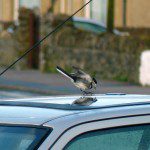 Colyford Common Snippets
A Peregrine was seen over the reserve on the 5th and the 9th.
Of the waders, up to 120 Lapwing were present on the scrape and just one Dunlin there on 6th when two Snipe were also seen and a Green Sandpiper, but the 'star' of the week's waders was the Spotted Redshank which although elusive was seen by several observers on the marsh or the scrapes and was still present on the 6th.
A Cetti's Warbler was noted on the reserve reed bed on the 4th and a Jay near the entrance gate on the 6th presumably feeding on the acorns from several oak trees in the area – there has been a bumper crop this year.
Canada Goose numbers have increased to 66 (7th), there were 47 Shelduck present on the 12th and a small group of Dark-bellied Brent Geese have returned to the marsh where between 9 and 13 have been counted since the 9th
Grey Herons were still frequenting the area behind the scrape on the marsh with up to 9 (12th) present. Bob Olliver
News from Holyford Woods Fungus Foray, Thursday, 3rd November, 2011.
This morning was arranged by Meg Knowles of EDDC and led by Dr. David Allen, many thanks to both of them. We set off hopefully for Holyford Woods, about 12 of us ably escorted by several dogs. Vanilla, David's yellow Labrador, wallowing in muddy puddles, couldn't decide whether to be black, blond or piebald. Serrin was black already. Paco thought "What a daft pair of b****es."
David started by explaining about the colour of spores going from dark to light and the fact that black and white paper could be used for determining spore colour. Also fungi on a fallen branch can re-orientate, so that the spores fall down, (geotropism).
First find – photogenic layers of Turkeytail, prettily arranged on a log. Next Birch Polypore, or Razor Strop Fungus. It can be used for sharpening blades but also for healing wounds. (So doubly useful in old Barber shops.) 5,300 years ago the ice mummy, Otzi, was carrying pieces of this Fungus. He may have used it as tinder in the Ray Mears fashion. Next, Clouded Agaric, edible, but causing gastric upsets in some people – so perhaps best avoided. Common Inkcap, edible, but causing alarming symptoms if taken with alcohol! ( Thus given, in medicine form, to alcoholics.) A useful ink was made from it in the past. A good patch of Earthballs and King Alfred's Cakes were found and a pretty Bonnet Fungi but, as it did not exude blood red latex, we had to agree we had not found a Bleeding Bonnet! We did find the black "bootlaces", the dreaded Honey Fungus. On the path back was a patch of Sulphur Tuft Fungus, always a good photo stop. We kept the best until last. Right at the gate and the piece de resistance was a magnificent Stinkhorn (aptly named by a Frenchman with a sense of humour, Phallus impudicus). It was complete with a disgusting fly revelling in the slimy top. A happy ending to a very enjoyable morning. Marjorie Waters.
Ringing
Despite the incorrect weather forecast for the 10th, the day was ideal and 33 birds were caught. These were: Robin (3); Blue Tit 7(6); Goldfinch 3(2); Chaffinch 1; Dunnock 2; Wren (1); Great Tit 1; Goldcreast 1(1); and Greenfinch 3 (2). A Greenfinch was probably a control, ringed by Steve Waite in his garden in Seaton, within the range to be a retrap.
This twice-monthly email newsletter is freely available to anyone who would like it, as is a periodic one about the activities of the East Devon Local Group of the Devon Wildlife Trust. Just send me an email with Axe Estuary Birds and/or East Devon DWT in the subject line. Also, for those without a computer, I will send a copy by post if you would like to send me some stamps.
Thanks to those who keep me informed. Please continue to tell me of any unusual, interesting or amusing sightings, and what is about locally, and send any photos you would like to share.
Mike, Marjorie and David. (and many others!) davidwalters@eclipse.co.uk. 7 Springfields, Colyford, EX24 6RE.
tel. 01297 552616 Mobile 0779 1541 744.