Thanks to Axe Estuary Birds for letting us publish their birding newsletter on the web.
Axe Estuary Birds 166
The Birds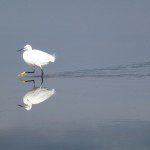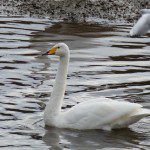 Lesley Clarke tells me "A friend of ours who made her first ever visit to Black Hole Marsh was very impressed and sent us this rather lovely photo of  a Little Egret."
And Sue Smith saw the first two Whooper Swans of the season on 6th October, and let Steve Waite know, who hurried there, having left a steaming cup of coffee!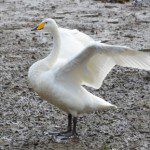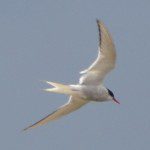 Of course, Sue had her camera ready too, and also caught this Arctic Tern.
The Semi-palmated Sandpiper stayed for a while, and Karen Woolley got this great picture on the beach. And then she went to Exmouth and caught a Grey Phalarope "doing what they do  best !"
From the Tower Hide Sue had great views of a Sparrow Hawk devouring its prey, and also a Peregrine Falcon.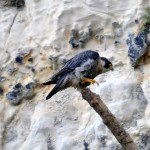 The Trivia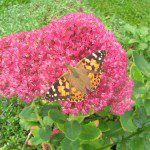 Nick Yool saw this Painted Lady at Membury on September 23rd . I have only seen one other this year, have they been scarce?At about 6pmon 9th October, Kathy Hackman "was down by the Axe beyond Cloakham Lawns, and a skein (unruly, not v-shaped) of very vocal geese flew overhead, heading north. What a thrill. For a moment I thought I was back inScotland. They didn't go out of vision, but swirled around and then flew back overhead, maybe to the Axe estuary. I couldn't tell what kind they were, but they had pale underbellies! A wonderful sight and sound. Their flight and grouping was definitely more purposeful when heading south/seaward."  Later Moira Anderson saw presumably the same flock over Colyford.
A super sequence by Sue Smith !  (The eel lost !)
News from Holyford Woods
In spite of the lovely un-seasonal weather we have been enjoying, it has not stopped Autumn progressing.  Bracken is turning that warm rusty red, and many of the  groundcover plants under the trees have  died down.  Leaves on the  ash and birch are changing colour and  falling, so on some paths one is scrunching those as well  as the amazing amount of acorns and beech mast strewn everywhere. Also ripe hazel nuts which probably account for  sightings of squirrels on 3 occasions, which pleases Paco. He and I were resting on my seat one day, and every time the wind shook the oak branches we were pelted with acorns! At the beginning of the month, on an early misty morning walk I found the gorse bushes, brambles and saplings on The Hangings magically festooned with a variety of cobwebs sparkling with dew drops. The Roe buck was among the gorse there, and later I heard a deer 'barking'. Many of the holly trees which usually bear fruit are loaded with  berries, but the blackberries which I have been picking since the end of July are just about finished. Thanks to Dave Palmer trimming back the paths there are only the odd determined bramble to be pruned back.  Every where is dry, so as yet  few fungi to enjoy.  The number  of Wrens has increased this year and their calls are heard everywhere,  in fact there is a lot of activity among all the birds. I do hope they are not beginning to think its Spring!   Jean Kreiseler On Saturday 1st October, the East Devon Branch of Devon Birds had a field trip to the Axe Wetlands, led by Bob Lugg.  They saw the Semi-palmated Sandpiper, and Ringed Plover, Black-tailed and Bar-tailed Godwit, Mediterranean Gulls and a Wheatear.  They were impressed by  the reserves and particularly liked the Tower Hide.
Ringing
A smaller catch on the 8th with eight birds: Chaffinch 1; Greenfinch 2; Wren (1); Blue Tit 2; Blackbird (1); Kingfisher (1).This twice-monthly email newsletter is freely available to anyone who would like it, as is a periodic one about the activities of the East Devon Local Group of the Devon Wildlife Trust.  Just send me an email with Axe Estuary Birds and/or East Devon DWT in the subject line.  Also, for those without a computer, I will send a copy by post if you would like to send me some stamps. Thanks to those who keep me informed.  Please continue to tell me of any unusual, interesting or amusing sightings, and what is about locally, and send any photos you would like to share. Mike, Jean, and David.  (and many others!) davidwalters@eclipse.co.uk.   7 Springfields,Colyford,EX24 6RE. tel. 01297 552616 Mobile0779 1541 744.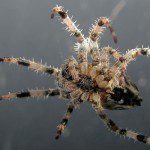 Eek !!  (As taken and titled by Karen Woolley)