NB: The following is reproduced with permission, and with thanks to Axe Estuary Birds.
---
Axe Estuary Birds                                                                                       No 171   December 31st    2011
The Birds
The Wheatear was last seen on Friday 16th December – if we see one in January it will be a first ! The following day there was a Water Rail on the ditch by Seaton Marshes car park.
Roger Boswell visited Seaton Marshes recently and took the following rather nice series of Blackbirds – and aThrush – scoffing down Sloes.
Sue Smith took these photos of a Kittiwake having a bath near the Tower Hide on Christmas Eve.  "Lovely to see something different and such a cute little bird too."
A Caspian Gull caused a little excitement among the local birders, and provoked several uncomplimentary remarks about its rear end.  I confess to being a mite puzzled, as I can find no reference to this bird in any of my books on British Birds.  This picture by Karen Woolley.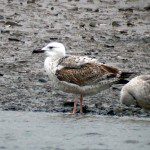 Peter Vernonsnapped this House Sparrow who appears to be saying "Wot you lookin' at?"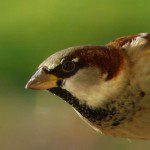 Colyford Common Snippets
The 'Stedcombe field' Mute Swan flock seems well established now with 23 counted on the 18th.  On the only day that Canada Geese were counted they were feeding along the bank of the River Coly and were often hidden from view so the count of 45 on 12th is probably well short of the number actually present.  A maximum of 239 Wigeon were counted on 13th when 94 Teal were also present on the marsh.
At least 800 Lapwing were present on the marsh on 12th with c300 of these on the large scrape and c70 Curlew were also on the scrape on the same day.  The Spotted Redshank was seen again on the marsh on 13th when seven Dunlin were also noted.
Five Rock Pipits, probably 'littoralis' were seen on the overhead wires on the reserve on 12th.  Eight Blackbirds were seen along the approach path along with two Song Thrushes (two had also been in full song on the reserve) and a Redwing on the 12th.
This pre-Christmas week was perhaps unsurprisingly rather 'quiet'.  The 'Stedcombe House' Mute Swan club reached a membership of 32, the only count of Canada Geese was of 55 on 19th; unusually, Wigeon were not noted in the log book during the week.
Singles of Sparrowhawk and Buzzard were seen over the reserve on 24th.
News from Holyford Woods
I have been enjoying several still warm walks, though very wet underfoot. There has only been one occasion when the wind has been strong enough to bring down an old tree, smothered with ivy. I have taken note that some trees do still have leaves on,  in particular the spindle, which are heavily loaded with their vivid salmon pink fruits, many now with their orange seeds showing.  They have been a real splash of colour along the path to my seat. Bird activity has increased, with the two Mistle Thrushes singing, a Greater Spotted Woodpecker drumming, two Green Woodpeckers calling from the surrounding fields, and the cock Pheasants getting territorial. There have also been all the Corvids in and over the trees, unless they are with the Gulls following the feeders in the pig fields. Other birds seen and heard are Nuthatch (at least three) three Wrens, two Robins, Tree Creeper, Blue and Great Tits, four Blackbirds, one Chaffinch and a flock of five plus Long Tailed Tits. I have seen three squirrels in one day, an unusual number for this time of year. Twice we have seen a Roe Deer but they are difficult to sex as the Bucks shed their antlers at this time. It is really only possible if they turn their backs to show the female 'tush' of white hair between their white rump patches.
As we are nearly in to 2012 may I wish everyone a Happy and Healthy New Year. Jean Kreiseler.
The Trivia
Peter Vernonwrites
"I am presently sorting my moth records onto 'mapmate' for 2011 and came across the attached image of a Mayfly type insect which has just emerged from its nymph case, not sure how the heck it found itself inside my moth trap as the nymph does not have wings!?" According to Wikipedia some species of Mayfly have a Subimago stage which has working wings.  Can anyone confirm this?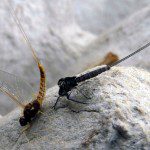 This twice-monthly email newsletter is freely available to anyone who would like it, as is a periodic one about the activities of the East Devon Local Group of the Devon Wildlife Trust.  Just send me an email with Axe Estuary Birds and/or East Devon DWT in the subject line.  Also, for those without a computer, I will send a copy by post if you would like to send me some stamps.
Thanks to those who keep me informed.  Please continue to tell me of any unusual, interesting or amusing sightings, and what is about locally, and send any photos you would like to share.
Bob, Jean, and David.  (and many others!) davidwalters@eclipse.co.uk.   7 Springfields,Colyford,EX24 6RE. tel. 01297 552616 Mobile 0779 1541 744.